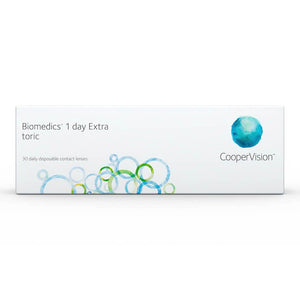 *

Please note

* Toric lenses (for Astigmatism) requires handling time of 3

-4 days(or up to one week)

 depending on availability. They are specially ordered and requires time to be shipped to our warehouse. 
Due to this, we kindly ask that you check carefully when placing the order as they will not be able to cancel or change once order is confirmed.
We'd greatly appreciate your understanding when placing this order.
ITEM DETAILS: 
Type: Sphere
Packaging: 30 lenses/pack
Water: 55%
Material:

Ocufilcon D 45%

Base Curve: 8.7
Diameters: 14.5
Sphere: 0.00 to -10.00
Colors: No Color 
Cooper Vision Biomedics One-day Extra TORIC (30 lenses pack)
Cooper vision toric
Good. Eyes don't feel dry after 8hrs -10hrs of wear.