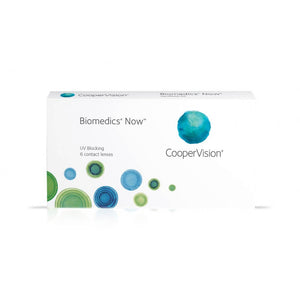 ITEM DETAILS: 
Type: Sphere
Packaging: 6 lenses/pack
Water: 55%
Material:

Ocufilcon D 45%

Base Curve: 8.6
Diameters: 14.2
Sphere: +0.50 to +8.00 / 0.00 to -10.00
Colors: No Color 
Cooper Vision Biomedics Now (Evolution 55) Monthly (6 lenses pack)
Thoughtful Gifts and Good Service
Bought 4 boxes of monthly contact lens. They were so thoughtful to give a eye shade and lens cleaner.
Found them on Instagram, the delivery took longer than two weeks but due to covid probably. Emailed them to verified after a week of ordering and they replied very fast.
Good service