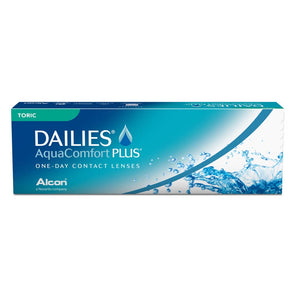 *

Please note

* Toric lenses (for Astigmatism) requires handling time of 3

-4 days(or up to one week)

 depending on availability. They are specially ordered and requires time to be shipped to our warehouse. 
Due to this, we kindly ask that you check carefully when placing the order as they will not be able to cancel or change once order is confirmed.
We'd greatly appreciate your understanding when placing this order.
ITEM DETAILS: 
Type: Sphere
Packaging: 30 lenses/pack
Water: 69%
Material:

Nelfilcon A 31%

Base Curve: 8.8
Diameters: 14.4
Sphere: +0.50 to +4.00 / 0.00 to -8.00
Colors: No Color 
Well packed and thanks for the different free gifts
1st time purchasing and wearing Toric lens and was still getting used to it but will definitely purchase again due to good service delivered 🙂
Poor customer service
Have been trying to contact the merchant consecutively but no response
Alcon (Ciba Vision) Dailies AquaComfort Plus Daily TORIC (30 lenses pack
Purchase online was easy and fuss free. Only some concern is the extra course for paypal otherwise price of the lens is very competitive. Shipment was fast as well and thanks for the free mask! Have yet to try the lens and hopefully its ok!
Good price and good product!
The price is very reasonable.
감사합니다
배송도 빠르고 친절하시고 사은품 까지 챙겨주셔서 잘 받았습니다. 사업 번창 하세요!