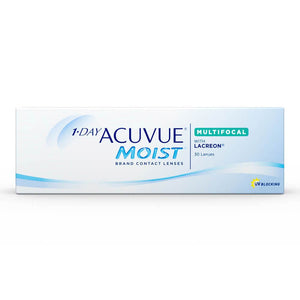 *

Please note

* MULTIFOCAL lenses (for Presbyopia) requires handling time of 3

-4 days(or up to one week)

 depending on availability. They are specially ordered and requires time to be shipped to our warehouse. 
Due to this, we kindly ask that you check carefully when placing the order as they will not be able to cancel or change once order is confirmed.
We'd greatly appreciate your understanding when placing this order.
ITEM DETAILS: 
Type: Sphere
Packaging: 30 lenses/pack
Water: 58%
Material:

Etafilcon A 42%

Base Curve: 8.4
Diameters: 14.3
Sphere: +0.50 to +4.00 / 0.00 to -9.00
ADD Range : Low (+0.75~+1.25) / Mid (+1.50~+1.75) / High (+2.00~+2.50) 
Colors: No Color 
Acuvue Moist One-Day Multifocal (30 lenses pack)
Feedback on Acuvue Moist Multifocal Lens
It's already my 3rd purchase with ezylens. Delivery has been acceptable though it has to be ordered from the manufacturer which took for extra week. Price and quality is OK for me too.
Feedback for Acuvue moist multi focal lens
Received my multi focal lens and noticed the packaging for LHS and RHS are different and also noticed the quality of the lens for the new packaging is bad. May I know why there's a different in package?
Excellent Service
Good pricing & fast delivery. Definitely will place order soon! Thank you
Positive feedback
Prompt ,reliable service and delivery