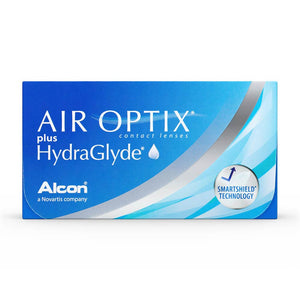 ITEM DETAILS: 
Type: Sphere
Packaging: 6 lenses/pack
Water: 33%
Material: Lotrafilcon B 67%
Base Curve: 8.6
Diameters: 14.2
Sphere: +0.50 to +8.00 / 0.00 to -12.00
Colors: No Color 
Comfy monthly disposable lenses
I have been using this brand for many years and trying their improved versions as it rolls out. It's one of the comfiest lenses so far with the high percentage in water content. Never given me problems unless the surroundings is dusty or hazey which then impacts and sometimes cause discomfort. Just take out clean, rinse and disinfect before wearing again.
Review
Good value, fast delivery and friendly service.
Great
Did not feel dry throughout my wear. Felt better than some of the daily ones that I purchased.
Contact lenses
Well packaged item. With free eye mask too. Thanks so much.
Alcon (Ciba Vision) Air Optix HydraGlyde Monthly (6 lenses pack)